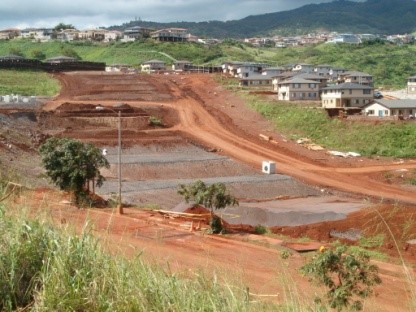 Wai Kaloi at Makakilo
Palehua East B
Background
Wai Kaloi is located on the hillside of Makakilo approximately 2 miles north of the H-1 Freeway at the end of Makakilo Drive. This 65-acre project, developed by Castle & Cooke Homes Hawaii, consists of 275 single-family residences overlooking the city of Kapolei, one of the State's fastest growing residential communities on Oahu. The project was designed with public roadways, sewer, drainage, and water systems, as well as two private wastewater pump stations and a water quality basin. The two phases included over 9,000 LF of 6- to 12-inch water mains.
Description of Work
The project scope of work consisted of the following engineering services:
Drainage Report
Water Quality Report
NPDES General Permit Coverage
(NOI Form C)
Preliminary Subdivision Map
Construction Plans
Grading and Erosion Control Plans
Services During Bidding and Negotiation
Construction Observation
As-built Drawings
Project Owner
Castle & Cooke Homes Hawaii, Inc.
Firm's REsponsibility
Planning, Design, Services During Bidding and Construction
Completion Date
2010
location
Kapolei, Oahu, Hawaii