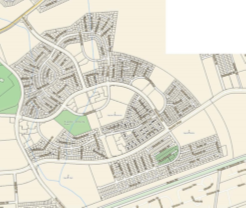 Villages of Kapolei
Infrastructure Dedication Services
Background
The Villages of Kapolei is comprised of eight villages including affordable and market-priced residences, schools, churches, parks, recreational centers and retail centers in the Ewa Plain. The Villages are bordered by Farrington Highway, Kapolei Golf Course, Renton Road, and Fort Barrette Road, spread over more than 800 acres of land. The intent of the master developer, the Hawaii Housing Finance and Development Corporation (HHFDC), formerly known as Housing and Community Development Corporation of Hawaii, was to dedicate all infrastructure to the City and County of Honolulu. To date, the water system has been officially turned over the Honolulu Board of Water Supply; however, the Villages' sewers, drainage and roadway systems remain under the jurisdiction of HHFDC.
Description of Work
GHN's project scope of work consisted of the following engineering services for the various elements of the dedication:
Research of as-built drawings, documents, subdivision files, and other related correspondence.
Conduct meetings with affected agencies (City & County of Honolulu) to determine the City's concerns and requirements for dedication improvements.
Formulate course of action based on City's feedback.
Conduct inspections with the City agencies and develop punch lists of items to be repaired or replaced.
Meet with City agencies and HHFDC to coordinate punch list items.
Prepare separate Action Plans for Backbone Sewer system, Backbone Roadways, and Backbone Drainage System.
Develop Memorandum of Agreement between City and County of Honolulu and HHFDC for each of the respective action plans.
Analysis of closed-circuit television (CCTV) video and manhole/catch basin inspection reports.
Project Owner
Hawaii Housing Finance and Development Corporation
Firm's REsponsibility
Planning
Completion Date
Ongoing
location
Kapolei, Oahu, Hawaii