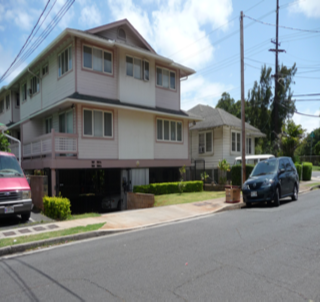 Palani Avenue
Drainage Improvements
Background
Palani Avenue is located in a low-lying sump area in one of the older Kapahulu neighborhoods. Storm runoff conveyed by the existing Date Street-Palani Avenue Box Culvert designed in 1937, serves a drainage area of 145 acres. This existing box culvert system begins at Harding Avenue near the Interstate H-1 Freeway, continues on Kapahulu Avenue, Palani Avenue, Date Street, and discharges into an open ditch which flows into the Manoa-Palolo Drainage Canal. Because of the limited hydraulic capacity of the Date-Palani Box Culvert, some flooding along Palani Street has occurred.
Previous attempts were made to alleviate the flooding at Palani Avenue in the late 60s and early 70s. The Kapahulu General Neighborhood Renewal Plan (GNRP) sponsored by the City and County of Honolulu concluded that the existing box culvert was not adequate to handle the peak flows. The GNRP proposed several drainage improvements; however, not all of the recommendations all were completed.
Description of Work
The City and County of Honolulu contracted Gray, Hong, Nojima & Associates, Inc. to provide planning and engineering services. Research and site investigations were conducted to examine the existing conditions and drainage problems. A preliminary engineering report (PER) examined various alternatives given the existing conditions. Hydrologic and hydraulic analyses, plan and profiles and cost estimates were prepared for each alternative. Following acceptance of the PER by the City and County of Honolulu, an Environmental Assessment was prepared under Chapter 343 of the Hawaii Revised Statutes.
The proposed drainage improvements involved extension of the existing Kapahulu/Date Street Drain into Palani Avenue to provide an additional inlet to intercept storm water during a heavy rainfall. The proposed system will consist of drainage structures, reconstructed catch basins and drain lines ranging from 18" to 36" in diameter.
Project Owner
City and County of Honolulu
Firm's REsponsibility
Planning, Design, Services During Bidding & Construction
Completion Date
2016
location
Honolulu, Oahu, Hawaii