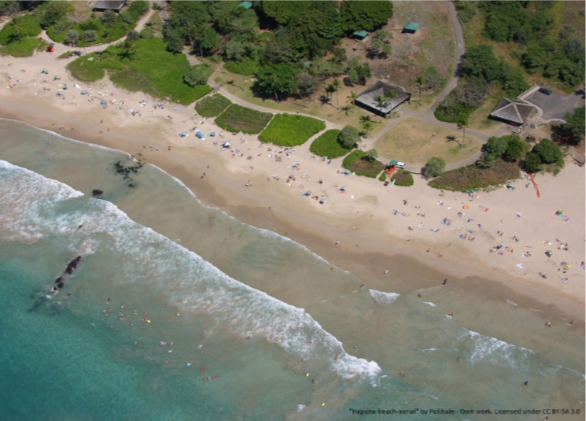 Hapuna Beach SRA
Park Improvements - Phase 3
Background
In 2004, Gray, Hong, Nojima & Associates (GHN), Inc. was contracted by the State of Hawaii, Department of Land & Natural Resources to prepare construction plans and specifications for a new access road, parking area and accessible route at the Wailea Bay Beach Park within the Hapuna Beach State Recreational Area (SRA). The existing park was constructed prior to the enactment of the Americans with Disabilities Act (ADA), therefore, design improvements needed to conform with the ADA. These improvements were constructed in 2006.
GHN is currently contracted for Phase 3 of this project., which includes the following improvements at the main park in Hapuna Bay:
Replace fixtures, plumbing, roof connectors, and security gates of the North, South and Upper Parking Comfort Stations
Repairs and improvements to the South and North Pavilions (water fountains, BBQs, ceilings, concrete floors, and walkways)
Install three new foot showers and two new ADA rinsing showers
Emergency Driveway at the edge of the main parking lot
Parking lot repairs and improvements, including resurfacing of the upper parking lot and adding ADA stalls
Replace AC walkway with 5-foot wide concrete walkway
In addition, improvements at the adjacent Waialea Bay Beach Park are included as follows:
Construction of a stairway/ramp and connection to existing pathway to the beach
Replace ADA rinsing shower
Replace fixtures in comfort station
Paint interior/exterior of comfort station
Refinish security gates
Repair concrete slab at picnic table
Description of Work
GHN's scope of work consist of providing engineering services to design improvements to Hapuna Beach State Recreational Area as well as the adjacent Beach Park at Waialea Bay. Work includes the following:
Assistance with onsite public meetings during planning and design phases
Preparation of construction documents including plans, specifications, and cost estimate
Permitting assistance (Shorline Cerfiication, NPDES and SMA)
Services during bidding including participating the pre-bid meeting, preparing addendums and review and responding to
Request for Information
Services during construction including participating in pre-construction meeting, site visits, providing proper interpretation of plans and specifications, and preparation of as-built drawings.
Project Owner
State of Hawaii, Dept. of Land & Natural Resources
Firm's Responsibility
Design, Services During Bidding & Construction
Completion Date
Ongoing
location
South Kohala, Island of Hawaii, Hawaii